Madison is hot as a maa'fucka.
We leave for Chicago tomorrow in "The Boss."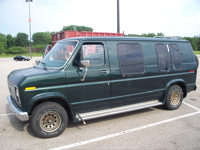 I'm packing grandmother's trunk with Xmas lights, Mad Libs (Adult Cinema Edition), and the makings of 37 PB&J sandwichs-39 if Adam eats heels. I don't.
Poured the pickle juice into the dumpster to make room for the urine. At 15 mpgs, we won't be stopping for 1.
Our jack is tougher than yours.
Cocorosie and Vampire Weekend on me ipod.
If you're reading this, then I love you.
Gossip Girl.
XOXO
Carson
..