The Great Midwestern Lacuna Tour: Day 1, Chicago, July 17, 2008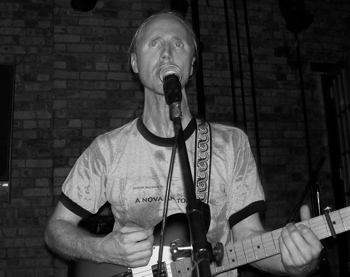 Day 1 Stats:
Shows Played: 1
Miles Driven: 144
Gas $ Spent: $120.00
Copies of the Nova Anatomia Sold:Â Â  Â 1
Copies of the Nova Anatomia Given Away: 5
Copies of the Nova Anatomia used by strangers for personal cooling system: 1
Stunt Jumps Completed: 47 out of 50
Strings Broken During Perfrormence: 2 (Adam: 1/Carson: 1)
People killed by head shot: <1 Adam's Respect for Carson: 100% Carson's Respect for Adam: 100% # of shirts sold by Adam: 2 Times I've seen Adam naked: 0 Times Adam has seen me naked: 0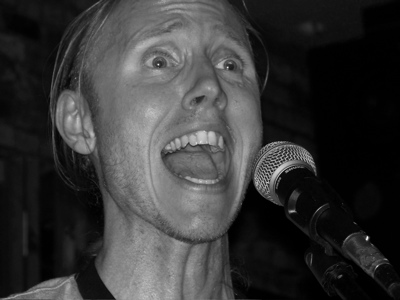 If you enjoy good times, a wide variety of beers, and sharp sound, don't visit the US Beer Company when passing through Chicago. Tonight, I became firm in the conviction that I've vacillated on so many times before: I don't enjoy playing to brick walls.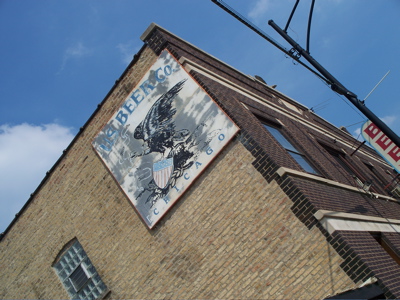 That said, last night was not a disaster thanks to Adam's sharp performance and the music of Smentek & Mullen.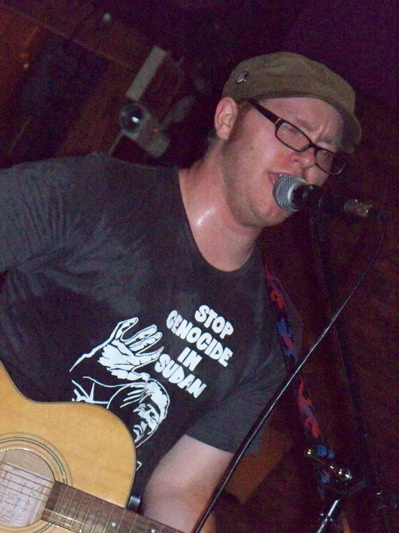 But the owner of US Beer didn't give a fuck; Bud Light was on special yet the bar had no Bud Light; and at one point in the evening the waitress (who spoke in yells) nearly ate me in a vain attempt to cannibalize herself.
And did I mention that we mostly performed for a brick wall?
There were people in the room. A handful. I'm not complaining about that. But the stage and seating in this spacious bar are arranged in such a fashion that performers are primarily facing the wall rather than the room.
Thanks to the guys in Smentek and Mullen for including us on the bill. They were great hosts. Steve and company play US Beer on a weekly basis.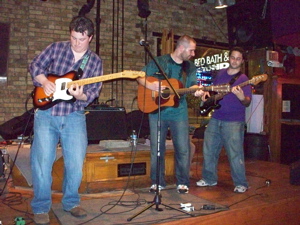 We met Jules who hosts an acoustic performance podcast.
I've sweat one long river on this trip—no air conditioning in The Boss. After the show Jon from the band Plan B saved us from the heat by putting us up in his loft. Through Steph's (Adam's g-friend) contacts on the "non-Lips" section of The Flaming Lips message board (still with me?) we met up with Jon and his roommate Dan in their spacious loft in the heart of Chicago. We slept in air conditioning!
Today we're headed to Aurora—made famous for many of us by Mike Myers and Dana Carvy. I'll be avoiding Mike Myers references.
Do I sound like I'm having fun?
I am.
But I'd like it even better if you all were dirty and sweaty with me.