Day 2 Destination: Green Leaf Café, Aurora, IL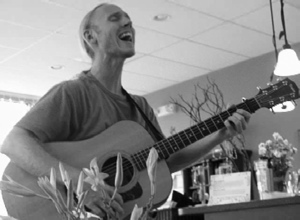 Day 2 Stats:
Shows Played: 2
Miles Driven: 187.4
Gas $ Spent: $165.00
Copies of the Nova Anatomia Sold:Â Â Â  3
Copies of the Nova Anatomia Given Away: 6
Copies of the Nova Anatomia used by strangers for personal cooling system: 1
Sprinkler Showers Taken: 2 (1 each)
Stunt Jumps Completed: 47 out of 50
Strings Broken During Performance: 5 (Adam: 3/Carson: 2)
People killed by head shot: <1 Adam's Respect for Carson: 99% Carson's Respect for Adam: 99% # of shirts sold by Adam: 3 Times I've seen Adam naked: 0 Times Adam has seen me naked: 0 I pretend to be above stereotypes but they seem unavoidable. Don't be fooled by the strip mall exterior that harbors the Green Leaf Coffee House in Aurora, IL. Strip mall businesses are supposed to exhale the stale breath of corporate America. Not so at the Green Leaf. Adam and I were invited into the café by sisters/owners Shannon and Jill and made to feel at home. This place is laid back. Not lazy-bad service laid back. But staff and customers mingling over kitchen tables strewn with newspapers, coffee mugs, and played hands of rummy laid back. The owners set a family/community tone. And they provide space for a Monday night open mic. Adam and I entertained from 7-9, alternating back and forth between short unplugged 3-song sets.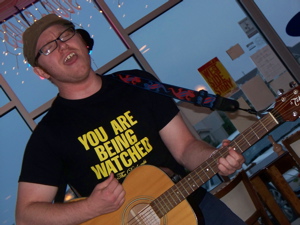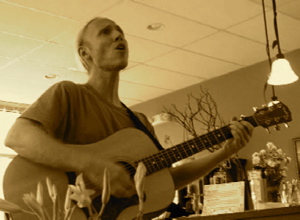 We met some cool folks, drank some tasty coffee (the Chicago Tribune recently took notice of the Green Leaf's quality brew) and enjoyed playing to people rather than brick walls.
For musicians, Jill primarily plays the music of independent artists. She'll wear your T-shirt, smile beautifully, and I'm mostly convinced that she won't yell or practice auto-cannibalization (see previous post about the bartender at US Beer Company).
Adam rocked the house again. If you haven't listened to his newer stuff (post-Adam Hooks is Dead material), check out "So Far Gone" on his Myspace page.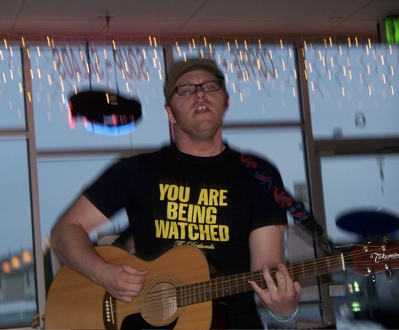 Thanks Jill and Shannon for making us feel cozy.
We spent most of the day 10 miles East of Aurora on the Naperville Riverwalk (DuPage River). The sprinklers have decent showerheads and the obelisk is…well, it's an obelisk.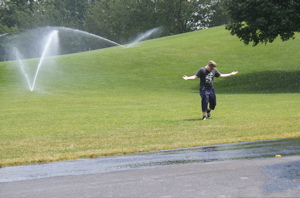 The Green Party has decorated the streets with some fun artwork.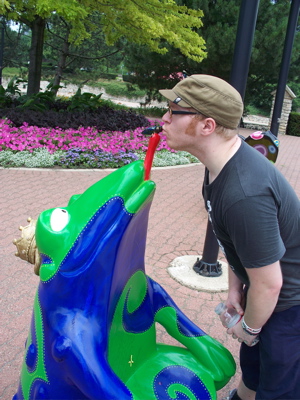 Back to Madison for a shower and The Hold Steady?
Carson