Day 7 Stats:
Shows Played: 3
Miles Driven: 763
Gas $ Spent: $261.99
Copies of the Nova Anatomia Sold:Â Â  Â 3
Copies of the Nova Anatomia Used as barter for services: 5 (12 Given Away)
Copies of the Nova Anatomia used by strangers for personal cooling system: 1
Sprinkler Showers Taken: 2 (1 each)
Strangers homes stayed at: 2
Stunt Jumps Completed: 43 out of 50
Strings Broken During Performance: 6 (Adam: 3/Carson: 3)
Adam's Respect for Carson: 93%
Carson's Respect for Adam: 89%
# of shirts sold by Adam: 4
# of CDs sold by Adam: 6ish
Times I've seen Adam naked: 0
Times Adam has seen me naked: He is starting to push his luck.
Preparing to Drive to Des Moines:

Do you share our enthusiasm?
Arggghh. Cutting edge piratry (?).
Driving to Des Moines: The Music Critic
We drove to Des Moines from Madison today. The excessive humidity finally broke in Madison and today's drive, despite the 91 degree temperature, didn't feel that hot.
Silence ruled the ipod with an iron. Just an iron. We did not need an ipod as Adam entertained me with acapella covers of Britney Spears ("Hit Me Baby One More Time), TLC ("No Scrubs"), and Husker Du ("Keep Hanging On"). Okay, so that only lasted for a small fraction of the drive. I am drooling over Tapes n Tapes having just heard them for the first time. I blitzed Adam with some Maiden tunes-a wide selection that spanned numerous 80s albums including "The Number of the Beast," "Powerslave," and "Seventh Son of a Seventh Son." Up the Irons!
Murray Street by Sonic Youth remains high on my list of the most mature late-in-career rock albums ever made. The jams on this album consistently hit a sweet spot between noise and harmony. By the end of Rain of Tin, the typical dirty guitar work of Thurston Moore and Lee Renaldo becomes Allman-Brothers-esque.
For those of you still feeling guilty for not giving me a birthday present, please get me some studio time with Jim O'Rourke. I love his engineering on Murray Street and his mixing of Joanna Newsom's Ys. Both of these albums speak to my concerns about the contemporary "volume wars" in the music industry (see p.16, the final passage of the Nova Anatomia).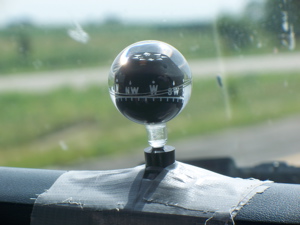 Des Moines
Des Moines was flooded severely as were many other spots in Iowa, including Ames-home of the University of Iowa-and Mason City where we head tonight.
We played in a hip lil neighborhood, nestled in the middle Des Moines.
The Mars Cafe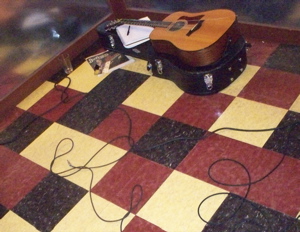 The Mars Cafe is big. It feels spacious. But it's actually hipper than outer space. As we know from The Most Stellar Cartographer, outer space is being colonized by an imperial government that uses the maps of our fair and God-loving cartographer for military means. Outer space is lacking in hipness these days as soldiers hold the line, flexing and straining their smart bombs and vying to keep all other governments from similar colonizing missions.
By contrast, The Mars Cafe streams hip electro pop over its speakers. The melange provides the background for the mingling of a mix of Drake college students, young professionals, and hipsters with tight jeans, meticulously angled hair, and multiple belts (here we see a tiny parallel between the Mars Cafe and the real Outer Space as a second belt IS useful when colonizing outer space: everyone needs an accessible place to store excess ammunition when "hold[ing] their latitude").
John, the Wednesday night manager at The Mars Cafe, made Adam and I comfortable. I've learned how sensitive I am to proprieters/workers. If they don't want you around, or even worse, if they just don't care (see the Day 1 entry on the US Beer Company), then I don't feel much like putting myself on the line. John treated us well, helped us set up the PA, and showed us some enthusiasm with claps. He thought the corwd was receptive to us. He's a visual artist. Some samples of his books were on display at the Mars Cafe (I'll add a link to his work soon if I can find one).
The coffee and food is great here. They sell beer as well. Becca served us Americanos and hummus plates. Best of all, for performers, the place has a steady flow of bodies. We were consistently performing to a room of fifteen people. Many were around the corner; other were outside; but for a Wednesday night, this coffee house was hopping.
The Performance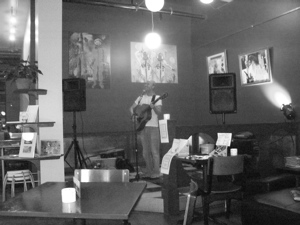 The acoustics in the Mars Cafe are great-a sweet large room reverb. I received a good reaction to "A Wrinkle in the Blueprint of the Plan of Her Life"; that song went over well at the Green Leaf Coffee House as well. In my second 3-song set I played "Hey! We Gas Up at the Pump," "The Boys Who Bring it on Home," and "Woohoo!" These three got a good reaction from the crowd. Tonight was the first time I've played Woohoo! on the trip. I usually play it late in sets but I moved it up because I wasn't able to finish either of my sets during the first two shows.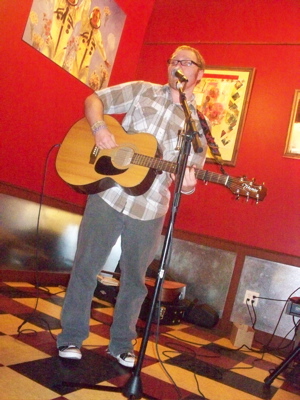 I broke a string during Lately, She's a Sea Monkey. For those of you who know the song, the descending melody of the chord progression is entirely dependent upon one string-the D…and I broke the D. I've never had that happen before so the solo was a cacophony of bad news and percussive brokenness. I had to conclude the song playing the same chord over and over again. And smiling about the misfortune. Adam and I are even: 3 strings broken each (in 3 performances). 😉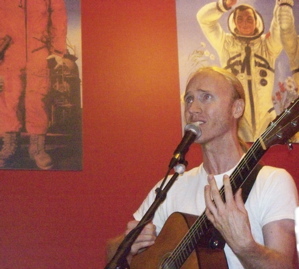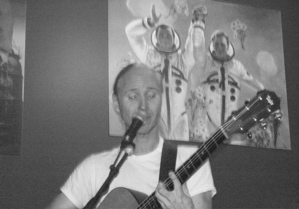 Adam played one of my favorite songs of his, Counterfeit Heart. He also performed his Doogie Howser song, "NPH", for the first time this trip.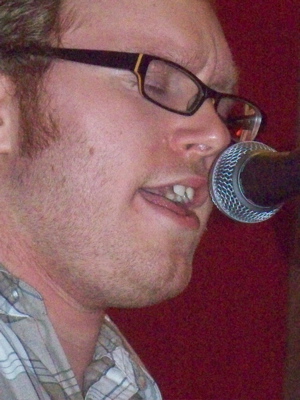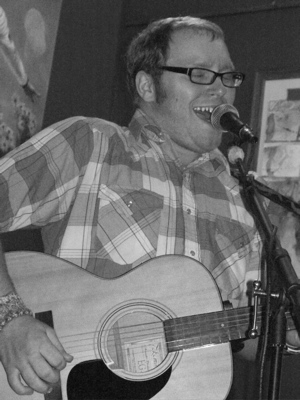 The highlight of the evening: Andrew showed up! Thanks so much for coming from Ames to hear us, Andrew.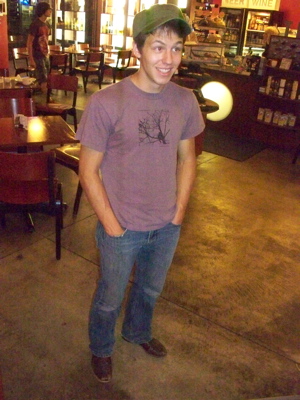 Thanks to John and Becca for making us comfortable and Daniel for booking us.
Tonight, we sleep in the concrete seas of the Devil's offering. Tomorrow, we travel to Mason City, IA to play the Coffeecat.
Thinking of you all in those moments when I'm not showering,
Carson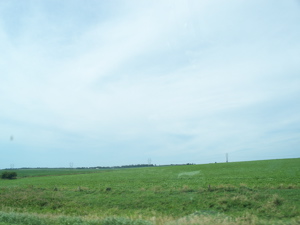 yep. Iowa.