My attempts to embed a video of The Stellar Cartographer fell flat so here's a link.
Enjoy!
Day 8 Stats:
Shows Played: 4
Miles Driven: 887
Gas $ Spent: $342.48
Copies of the Nova Anatomia Sold:Â Â Â  4
Copies of the Nova Anatomia Used as barter for services: 7 (15 Given Away)
Copies of the Nova Anatomia used by strangers for personal cooling system: 1
Sprinkler Showers Taken: 2 (1 each)
Stunt Jumps Completed: 43 out of 50
Strings Broken During Performance: 7 (Adam: 3/Carson: 4)
Adam's Respect for Carson: 86%
Carson's Respect for Adam: 87%
# of shirts sold by Adam: 5
# of CDs sold by Adam: 7ish
Times I've seen Adam naked: 0
Times Adam has seen me naked: 0
Eating Meat in Mason City and Seeking the Miraculous at the Coffeecat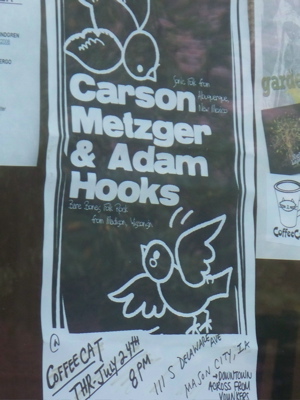 Tonight, I really enjoyed some meat before bed.
I'm not a meat eater. But since shifting from hardcore vegetarian to a more flexible stance, I eat meat when the social circustances call for it. And the meat on the pizza supreme-pepperoni and sausage-was damn good. The path to the delicious meat was worn with overcast skies and psychedelic carpets.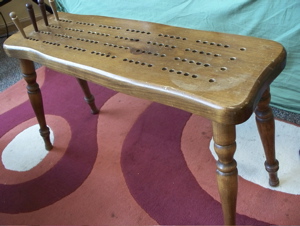 Having spent on the night in the gaping concrete expanse of the Devil's right hoof, I was pleased listening to the pitter patter of rain on The Boss. But we awoke to a rain-soaked front seat. The driver's side window of "The Boss" is stuck slightly open. We forgot to duck tape it closed and I awoke to Adam sopping up the water with a towel. After peeing in the 24 hour restrooms of the Devil's mighty aorta, we started the van and Adam, with a stroke of genius, tried to roll the window up. It worked. No more rain on the drivers side. No more air flow on the drivers side either.
We took our coffee at The Mars Cafe. Adam had the escargo and I blogged with a spot of espresso.  Again, the Mars Cafe espresso is simply splendid.
Our drive today was short (2 hours) as we headed north from Des Moines to Mason City.
Hallelujah, the cloud cover remained and we had a dreamy ride. The heat in Madison had me fearing this trip but today, passenger-side windows peeled, I felt damn good.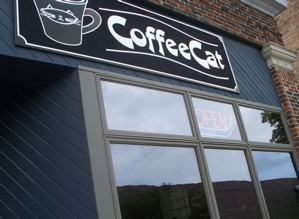 We arrived at Coffeecat in Mason City around two in the afternoon. Cat opened the Coffeecat with a $100 dollar bill that she had received from a customer at another coffee shop where she was working as a barista. She parlayed that $100 into a hip joint in downtown Mason City. If you're in town, please visit her because she works hard-not only is she the owner; but she is the only employee. Cat distinguishes her business from the other four coffee shops in the city by brewing quality coffee for discerning palates (I had a nice smoky blend…really good stuff) and serving freshly baked scones and cookies.
Before playing, we exercised in the historic Coffeecat neighborhood. I did jumping jacks. Adam did push-ups. We never found the Frank Lloyd Wright house (I think he has a hotel and house here). But we did find a fine museum with marionettes! I've written about puppetmakers before ("The Sound of the Crowd"), but I'm not done with this theme yet.
Playing in front of white Christmas lights as the sun set on S Delaware Street, the performance at the Coffeecat went well. The room consistently had between 8-10 people (other than Cat, Adam, and I). Cat was very supportive-she listened and cheered us on; and we met another Steven (three so far) who gave us his attention. I hope you enjoy the video of me performing The Most Stellar Cartographer (see above).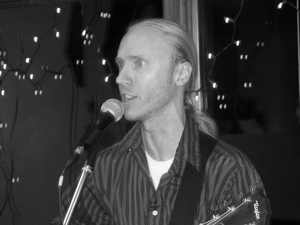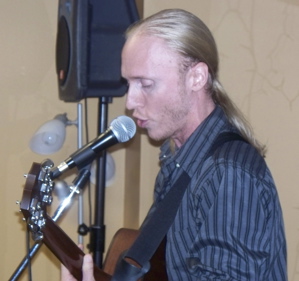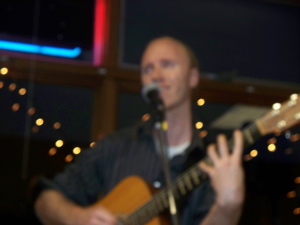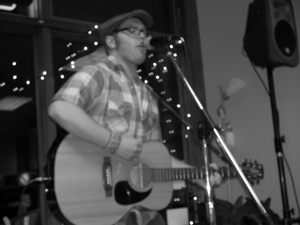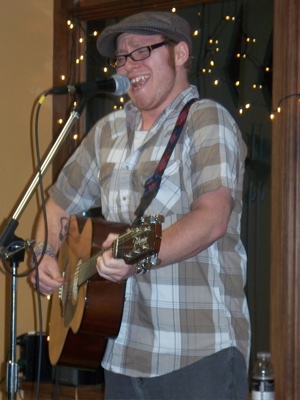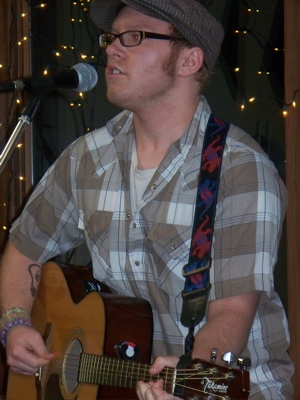 But here's the bottom line: playing for people who don't know YOU or your music is difficult. As Cat wisely emphasized, first tours are mostly about making contacts. And I will gladly return to the Coffecat to perform and to drink coffee. But most strangers just don't give their attention to you. Most people don't laugh at your jokes. Most people don't even notice you joking. I'm exaggerating here. Adam and I consistently get good applause and hold the attention of strangers for a song or two. But their attention does not compare to you, dear blog-readers. I'm thankful for those of you (especially you Albuquerque friends) who have consistently given me your attention. You are irreplaceable.
I understand that people don't just up and listen. I often don't give strange performers my full attention either. That said, I do recognize sincirity and energy in performers. And Adam and I both played sincere, energetic sets.
Amidst the air conditioning and energy, we almost experienced a miracle tonight. The Coffeecat was in the running for first coffeehouse show without a broken string. I made it through all my sets and as Adam wound his up, we thought we were home free. Then they asked me to play a final song. This was a mistake-at least from a string-breaking perspective. I was happy to play Lately, She's a Sea Monkey. But the song killed our hope of getting through an entire show without breaking a string. For the second straight night, the Sea Monkey busted my strings.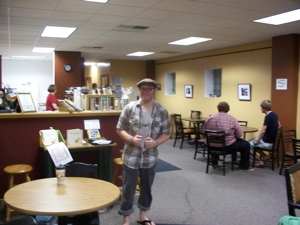 Cat let us know from the beginning that she would help us out in any manner she could-we didn't know what this meant at the time. But that's the beautiful thing about touring: you place yourself in the graces of other people. When you are unknown, you give your music and you grant people the space to give what they can.  Cat really pulled through by talking to some of her regular clients about putting us up for the night. We stayed with Troy, Marie, and Drew at their apartment: The Kirk.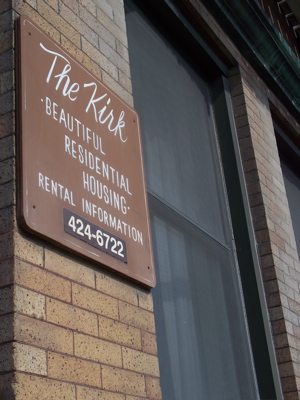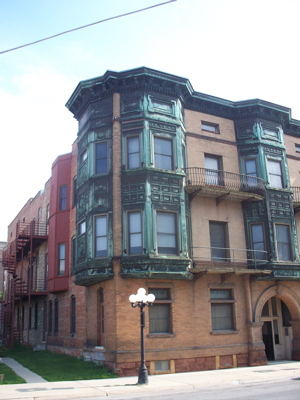 We really enjoyed meeting these three housemates. They fed us pizza, watched Adam and I strategize over Othello (so long as Adam neglects this blog entry, I'll have you believe that I won), played us Fleet Foxes (good stuff) and Scarlett Johanssen's album (primarily covers of Tom Waits!). We were taken care of with friendliness, fans, and meat.
And we scratched the surface of a really good conversation about photographs, meaning, music, and materiality.
Tomorrow is a long drive; a long drive to Lincoln, Nebraska, and The Meadowlark Cafe where we have a Friday night gig.
I'm in the groove and excited to play another show.
Missing you all,
Carson