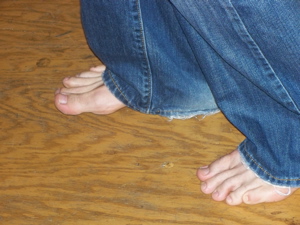 Day 9 Stats:
Shows Played: 5
Miles Driven: 1195
Gas $ Spent: $382.48
Copies of the Nova Anatomia Sold:Â Â  Â 4
Copies of the Nova Anatomia Used as barter for services: 7 (15 Given Away)
Copies of the Nova Anatomia used by strangers for personal cooling system: 1
Pinkies Gouged: 1
Gallons of Water Consumed: 7
Sprinkler Showers Taken: 2 (1 each)
Stunt Jumps Completed: 41 out of 50
Strings Broken During Performance: 10 (Adam: 5/Carson: 5)
Adam's Respect for Carson: 82.343434%
Carson's Respect for Adam: 82.343434%
# of shirts sold by Adam: 5
# of CDs sold by Adam: 7ish
Times I've seen Adam naked: 0
Times Adam has seen me naked: 0
Have you hugged an independent musician today?
Well don't. At least don't go out of your way to do so. But do listen to one. And when you listen, please give them your full attention for a few songs. You will make them better.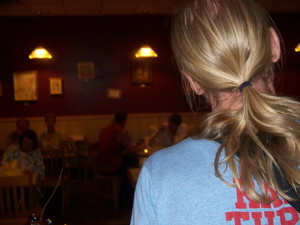 Two observations:
1. Dean Maier (my friend, an Albuquerque-based songwriter, and part of the Albuqueruque Songwriters Co-op) once said the following (ore or less): "If you place a star like Dave Matthews in the corner of a coffee shop with a guitar on open mic night, he will encounter the same problems as an unknown artist." Open mics are great equalizers. You don't have much control over the sound. Strings break. You only have 2 or 3 songs to catch the audience's attention. And the open mic musician usually has no more than themself to muscle their publicity machine.
Playing shows at new venues in places where I lack fans often feels like playing an open mic.
2. Beyond the open mic, acoustic music is a great equalizer: no pomp and circumstance; no glitter or distortion. When you witness a performer and a guitar, the quality of the song itself is on the line.
On the road and at open mics, the audience isn't all there to hear you. I bring this up as a way to address a larger issue: the relationhip between audience and performer. I'm going to overgeneralize here. For a performance to appear "great" or "electirc," these two entities-audience and performer-must exist in a healthy tension: a taut rubberband that doesn't quite break.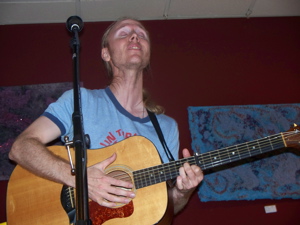 The history of popular music includes many stories of performers who take the stage and wow their audiences with greatness. The story goes something like this: "I saw them when they were nothing. And they were great! I just knew they'd make something of themselves." Not only is it safe to appreciate a performance in retrospect-some people consider it a sign of status: "I knew they would we be good before anyone else knew." So much of what we've come to regard as great performance occurs when an artist alwready has a secure/sympathetic audience. And when an artist gets big, people recursively look back at earlier shows and say "that was an incredible show" (see The Ramones movie End of the Century. Note the lackluster applause from the audience at what is considered to be one of their break out shows at the CBGB). In the realm of popular Western music, we seem to recgonize greatness through hindsight or through a will to be hip and ahead of the curve.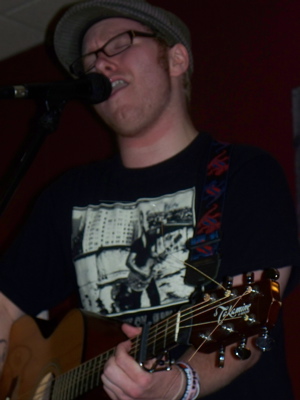 I mention all this because the quality of a show is shaped, not by hindsight, but by the attentiveness of audiences in the present-during the performance. Audiences and performers exist in a symbiotic relationship. A performer cannot be anything if some portion of the audience does not give their attention.
The audience at The Meadowlark in Lincoln, NE gave us a ton of attention last night.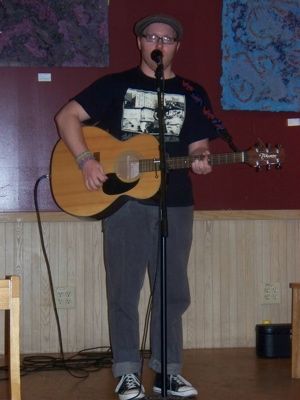 Adam and I played strong, high-energy sets for some really caring people. Thanks to all the folks who sat through, listened to, and cheered portions of our set: Dan and Eileen, Vicki, Nate (the owner), James (barista), Tom, and that group of teenage girls who brought some sass to the room.
Riley O'Connor and Molly B. Moon opened the show, playing some folk, country, and Scottish tunes.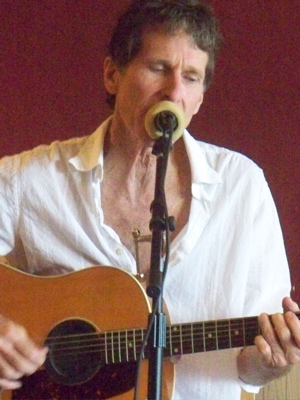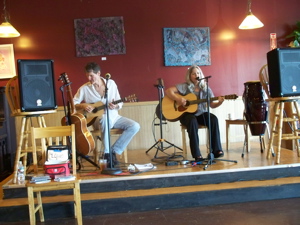 Two audience members-a couple-sat and listened diligently the whole evening. I spoke with them toward the end of Adam's set but, unfortunately, I didn't get their names. They really made my evening. Thanks!
The Meadowlark's stage offered us both some foot-stomping opportunities. Adam's rendition of "Wondering" was smoking tonight. I've heard people cheer for this song before, but tonight, he really electirifed the audience. He also played "These Roots Run Deep"-one of my favorites from "Adam Hooks is Dead." The song is about a fmaily protecting themselves from farm repossession. Adam worked "Roman Candle and a Reason" as well as I've ever seen. He added a dynamism to the song, teasing out peaks and valleys. He opened with a traditional song called "The Bad Girl." I'm stealing this one from him.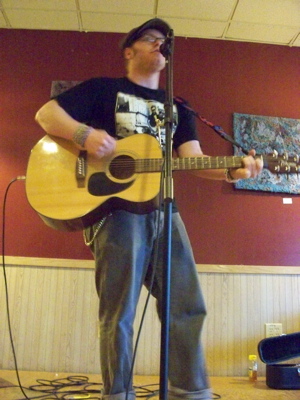 I got great responses to "The Boys Who Bring it On Home" (the Biblical story about David and 100 foreskins), "Wrinkle in the Blueprint of the Plan of Her Life," "Woohoo!," and "The Potato Song."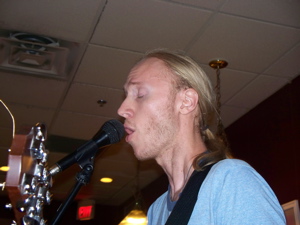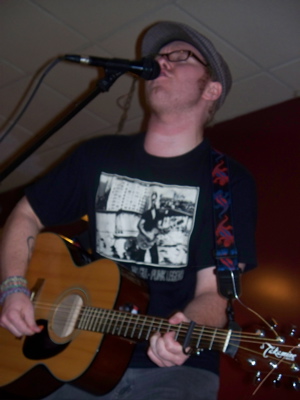 The generosity of the Lincoln folk continued after we finished performing.
Chris/Free gave us a cleansing prayer and a blessing.
Vivki put us up on the floor of her basement apartment. She provided us with warmth, kindness, fans, a shower, and eggs and toast with orange marmelade in the morning.
The script continues to write itself in new and unexpected ways. As performers, we learn ways to engage audiences. Yes, the onus is on us to make you interested. But you all make us more entertaining when you commit your attention.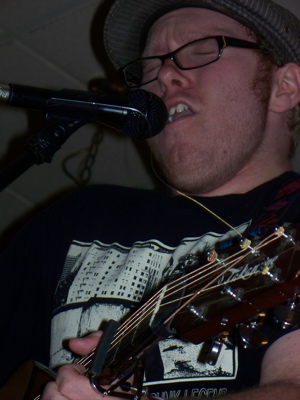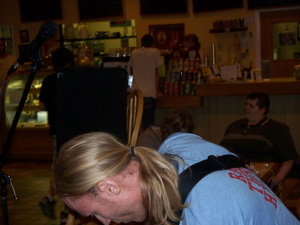 Miss you. All of you.
Carson