Here's a link to a new video of The Wrinkle in the Blueprint of the Plan of Her Life. Enjoy!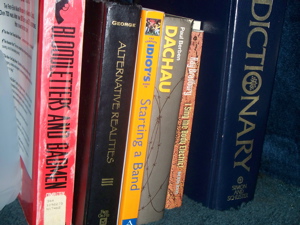 Our well-manicured tour library.
Day 12 Stats:
Shows Played: 5
Miles Driven: 1195
Gas $ Spent: $382.48
Copies of the Nova Anatomia Sold:Â Â  Â 4
Copies of the Nova Anatomia Used as barter for services: 7 (15 Given Away)
Copies of the Nova Anatomia used by strangers for personal cooling system: 1
Pinkies Gouged: 1
Gallons of Water Consumed: 9
Loaves of Bread Eaten: 1
Sprinkler Showers Taken: 3
Stunt Jumps Completed: 39 out of 50
Strings Broken During Performance: 10 (Adam: 5/Carson: 5)
Adam's Respect for Carson:  75%
Carson's Respect for Adam: 70%
# of shirts sold by Adam: 5
# of CDs sold by Adam: 7ish
Times I've seen Adam naked: 0
Times Adam has seen me naked: 0
It was a time of personal hygiene on The Boss.
Some shaved. Others clipped fingernails. Still others used Andrew Weil's nasal-douching technique. The van was a veritable carnival of cleanliness.
I had a wound to address.
I gouged my finger last Thursday on a wooden door at the Coffeecat. I can't actually explain how it happened. I was in denial about it needing any treatment as it seemed ridiculous that a scrape from a wooden door could cause any real damage. But the gash was a little bit deeper than a scratch or a cut. I started using some first aid cream and it has cleared up. I'm blessed to have received the wound in one of the rare parts of my hand that I don't use to play guitar. The wound is hard to see as the displaced skin is still connected save the last photo where you can see the it in all its recovering glory.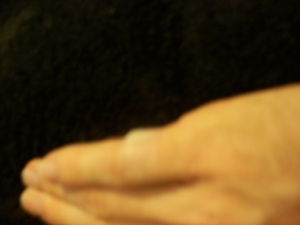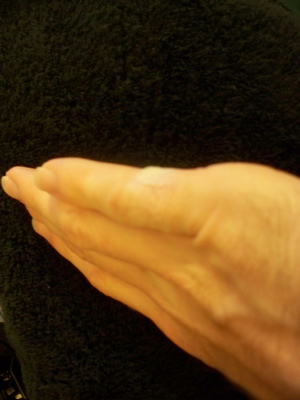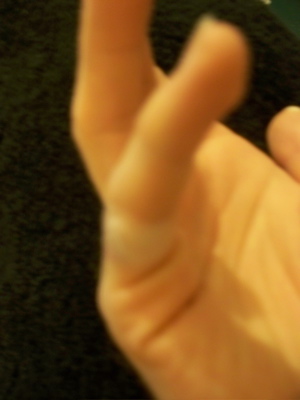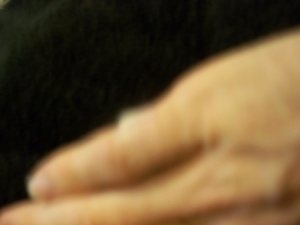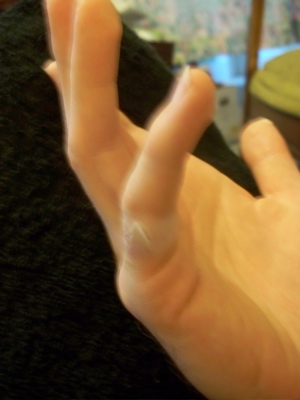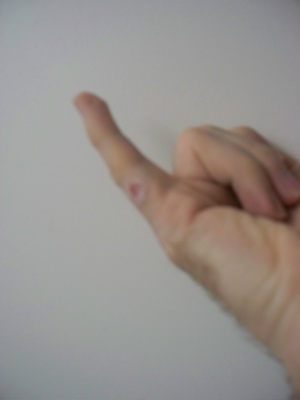 This lag has been tough. But we're gearing up for a series of performances on five straight nights: 2 open mics and 3 shows. I can't wait!
So for those of you who have been following this daily, you probably know that the heat has served this writer as an antagonist and a consistent dramatic situation. If you're not convinced by this bloggers experience of sweat and sunburns, then please note this small "heat warning" published on the AP wire. http://www.ktiv.com/Global/story.asp?S=8746863. Apparently, this heat really is dangerous.
Adam's mother, Polly (not to be confused with Polly Punkneck of Jason and the Punkneck's, a band that rocked The Meadowlark last Saturday) works in the hotel industry and she got us a reasonable rate at a hotel tonight. We will escape the nebulous matter of the Devil's medulla oblongata for a night in an air conditioned vessel.
Miss you all and miss performing. This is a tour, right?
Carson