Ideas, Craft, and The Fashioning of the Center Of the Universe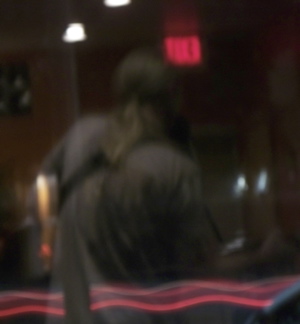 Ideas and Craft
I have a song idea.
Ideas are dangerous. American pop culture is full of good ideas. But a good idea is no substitute for the skeleton of the idea-for the execution of the idea. I like plenty of pop culture; but my take on most popular culture-music, movies, and TV-is that it usually amounts to good ideas that are poorly crafted. This failure to execute a good idea is, in part, a matter of poor writing. A good idea is so often a house of cards: the crafting of the idea can't stand up to an errant hurricane or a rogue's sneeze.
Leonard Cohen once described himself as having NO good ideas. As a songwriter, I have learned to mistrust song ideas. If I put too much weight in an idea early in the writing process, I allow my rational mind to write the song: I end up trying to craft the brainstorm with my will.
The initial idea for The Potato Song was a song about a ghost in a photograph: "Ghosts in a photograph/are ghosts that will miss you." Had I stuck with the initial idea of ghost in photograph, I wouldn't have gotten to the eventual subject matter: the Irish Potato Famine:
"The white, white noise/of the ghost in your tummy."
Ideas are dictators; they attempt to steer your song toward an ideal that emerges less from the architectural process and more from the conscious mind of the architect.
My best lyricism occurs when the non-rational part of me starts to fashion stanzas. Later in the writing process, as the kernel of the song becomes apparent, the rational mind becomes important-carving and revising. Here, work must be done on the song itself and this requires working with the idea that has emerged from the page-from the process.
A Song Idea
That said, here's my idea: the song works through three verses describing the behavior of a group of people. By the end of the first verse, the song establishes these people as "abnormal."
The second verse broadens this theme by showing the "abnormal" characters interacting; this verse turns up the volume on the environment they are in: they seem to be patients, drawn together beneath the roof of some sort of institution.
The third stanza pushes the notion that these people are not just "abnormal," but really out of their mind. Yet in the last two lines of the song, the narrative flips and reveals these folk to be patrons of a coffee shop. What seemed like a mental institute for the mentally ill, is, in fact, a small town coffee house.
I'll string coffee house allusions-imagery-throughout the first two stanzas; but it will become obvious in the last two lines that the characters are, in fact, in a coffee house.
We'll see if the song gets written. The idea seems too sharp to be converted into song. I'll most likely try to write about it only to find myself steered off the path toward something else.

Making the Center of the Universe
Jones Coffee seems a bit wounded. We tried to get a show here, but they were not responsive (editor's note: Deb, the owner, got back to me and invited me to play next time I'm in town. Thanks Deb!). One of their employees-the one who owns the house PA-is leaving. So the open mic was PA-less. We performed through a Marshall amp with a single mic for both guitar and vocals. And the open mic had no host.
I was looking forward to having someone else do my sound for an evening. I'm not sure why my expectations were different on this tour-but I never thought that I would have to do my own sound (along with Adam's help) on every show. To Norm Everett's credit, when he was running the Blue Dragon in Albuquerque, he usually had someone there to work the sound for traveling bands and for open mics-often, he did it himself.
Ten minutes before we performed, the room was empty. I had a "what are we doing here feeling." But miraculously, just before Adam took the stage to play a few songs, people starting emerging from the cracks in the Lincoln asphalt. The audience included Vicki (who put us up our first night in Lincoln), Jen Duerr (a singer-songwriter with a great voice who recently moved to Mexico "when the Facists took over"), a blonde-bearded man named Steven, and two Michael's (one in a baseball cap and one who performed). About ten others were present as well.
If the center of the universe is not an essence, but, rather, something more nebulous-shifting and morphing through time and space-then Adam fabricated that center around 8:48 pm at Jones Coffee tonight.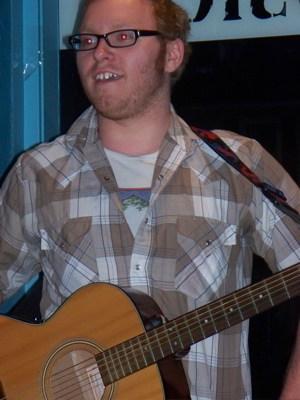 He took the stage like a natural disaster. Well, not so much a disaster. More like the nature part; a force of nature-like a mighty salmon swimming upstream; like an ancient tree standing tall despite the pull of gravity; like a parachute opening late-but still early enough to ensure that its user survives with a mere broken radius and a few minor bruises (Do you see from my bad analogies that I've been reading Biblical proverbs? I will pull no punches here: a lot of the analogies in Proverbs would be considered absolute crap by literary people who take their analogies with tea and crumpets).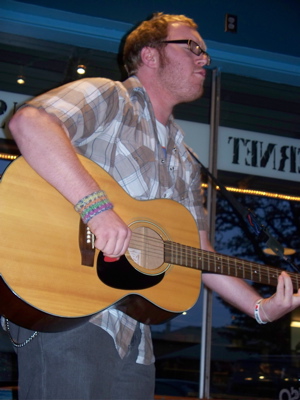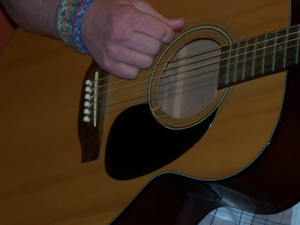 Wrist bands courtesy of Steph.
"Hello Lincoln! Are you ready to rock!?"
Two simple sentences uttered confidently from Adam's mouth. I'm sure countless performers have spoken similar words in a similar order with a similar intonation-but in much larger venues for much larger audiences. There's something radical about screaming this in a small coffee shop, in a small city, at a small open mic. No one feels like they're at the center of the universe when they show up at an open mic in Lincoln, NE. But with the right amount of energy, a performer like Adam can make this musician feel like he is.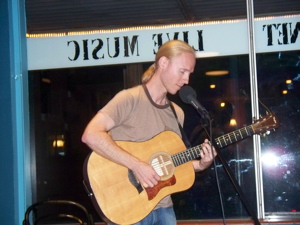 So it was easy for me to plug right in and take off where he had left off. I played four of the songs that have received the best reaction this trip: Hey! We Gas Up at The Pump, Woohoo!, The Wrinkle in the Blueprint of the Plan of Her Life, and The Boys Who Bring it on Home. None of these songs are on the Nova Anatomia. For those of you who perform, you're probably familiar with the way some songs go over well in some places at some times. And try as I might to find a formula, an element of randomness continues to haunt my attempts. Plenty of people like The Most Stellar Cartographer, but on tour, I have only received one post-performance reaction to the song. Am I playing it in less than stellar fashion? I don't know.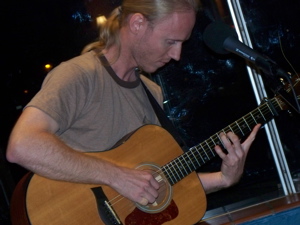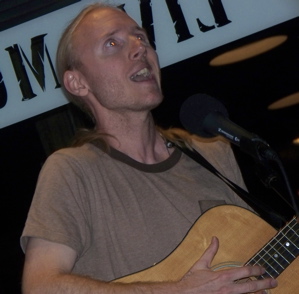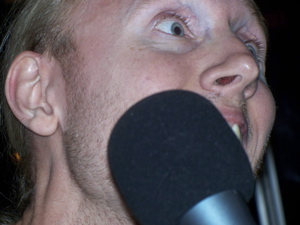 I mentioned Jen Duerr earlier. We heard three songs from herr tonight (picture below). She has an incredible voice-it has a childlike quality similar to that of Joanna Newsom. Hearing her voice and her thoughtful lyrics (including two songs she was performing for the first time) made tonight feel worth it.
Tomorrow we play at the Crescent Moon. I already know what happens. But you, dear reader, will have to wait.
Miss you all in thought, song, and conversation.
Carson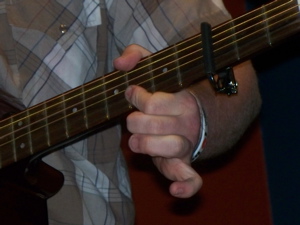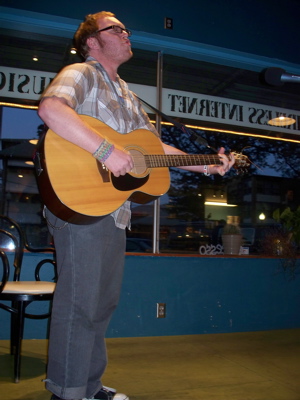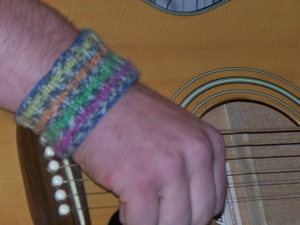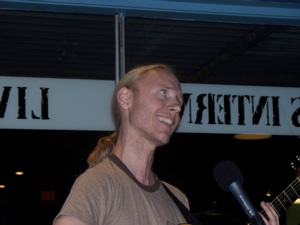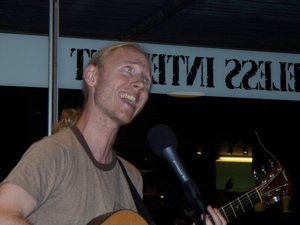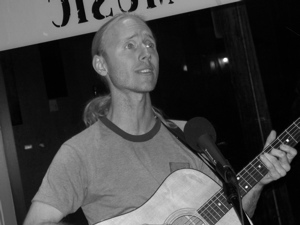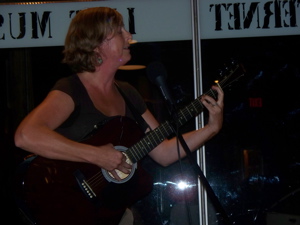 Jen Duerr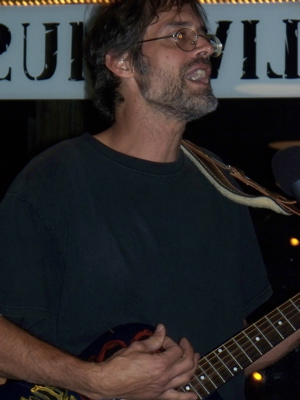 Michael