The Great Midwestern Recession Tour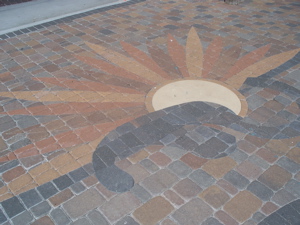 We received a tip on this trip: the most important factor in touring is the (lack of) engagement and the (non) support of the owners of performance establishments. We have largely been blessed on this front.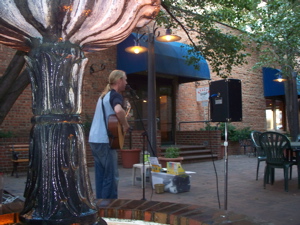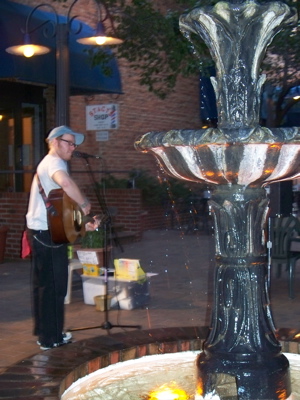 The booking of our show tonight was confused from the outset and we ended up splitting time with Tony Church, an instrumental musician who plays Lincoln's Crescent Moon Cafe every Wednesday from 8-10.
The courtyard of the Crescent Moon is all rustic bricks, fountains, and wrought iron. And on Wednesday night at 7pm, it was empty. Ironically, this  show was our most publicized. Having been in Lincoln for six days and five nights, we actually had time to dig our heels in and do a little publicizing.
I performed my first three songs for Adam.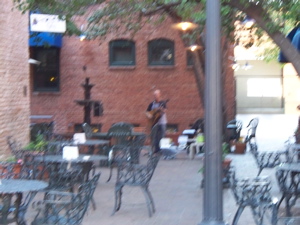 I pretended the audience was vast and eager and respectful. Adam took some photos and whooped. He is particularly adept at whooping. And I turned the stage over to him just as three folks took their coffee and seats in the courtyard in front of us.
Playing for three strangers turned out to be productive. If performers need audiences, then audience respect and connection (especially with strangers) is equally a necessity. Both Adam and I reached out and connected with these three people-two Lincolners and one woman from the Berkshires in Massachusetts. Thanks to you folks for tuning in!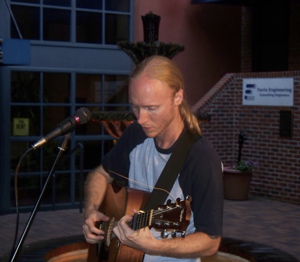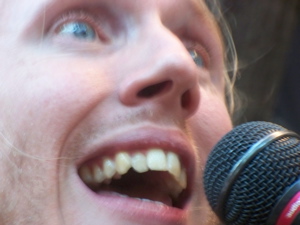 Adam played his new song, tentatively titled "She Used to Be a Dancer." This song is incredible. He thinks it's depressing. I think it's the type of song I want to be sang asleep to.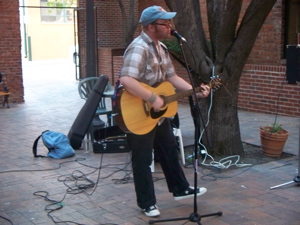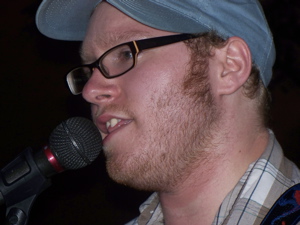 But keeping your energy high for nine or ten songs without the electricity of a consistent audience takes its toll.
The evening-hell, the whole town of Lincoln-really took a turn shortly after our performances when we met Karen and Sam.
Karen Church, Tony Church's mother, is a writer. She and talked about writing as we took in Tony's music. Karen paraphrased Tony, suggesting that the Crescent Moon courtyard receives less foot traffic as people are not going out to eat in these dog days of high gas prices and low consumer spending.
And Sam. We have received a lot of generosity on this tour; but Sam has embodies the archetype of care and generosity. He bought us a beer, put us up in an air-conditioned room, showed us an Oingo Boingo movie (Danny Elfman's old band performing on Halloween), and fed us fruit. We are likely going to see him tomorrow to do some recording at his studio.
On good nights like tonight, the cracks in venues are plugged by sympathetic strangers.
Cheers,
Carson