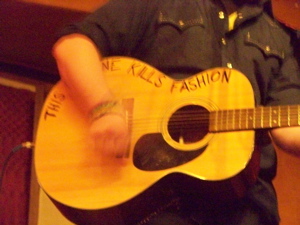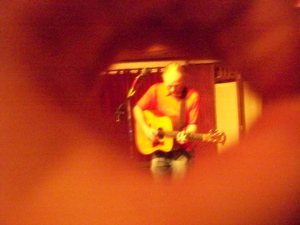 Day 16 Stats:
Shows Played: 7
Open mics played: 2
Miles Driven: 1264
Gas $ Spent: $480.09
Nights spent in other people's homes: 4
Nights spent in hotels: 2
Nights spent at campgrounds: 1
Nights spent in hotels: 2
Nights spent in the bowels of asphalt Devil: 3
Copies of the Nova Anatomia Sold:Â Â  Â 4.5
Copies of the Nova Anatomia Used as barter for services: 8 (17 Given Away)
Copies of the Nova Anatomia used by strangers for personal cooling system: 1
Pinkies Gouged: 1
Gallons of Water Consumed: 10
Loaves of Bread Eaten: 1
Sprinkler Showers Taken: 3
Stunt Jumps Completed: 36 out of 50
Strings Broken During Performance: 11 (Adam: 6/Carson: 5)
Adam's Respect for Carson:  62%
Carson's Respect for Adam: 67%
# of shirts sold by Adam: 5
# of CDs sold by Adam: 7ish
Times I've seen Adam naked: 0
Times Adam has seen me naked: 0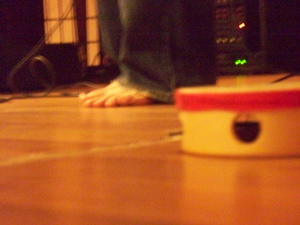 I suppose I was fumbling a bit when he offered to help me put the band-aid on my pinky. Having finished his business at the urinal, he appracoahed me as I stood in the bathroom of the Devil's 12th rib attending to my nearly healed-gouge. Bandages are sticky. Stickiness is awkward. I guess I looked like I needed a helping hand.
Acts of kindness exist on a continuum of reasonableness: there are extremely reasonable acts, entirely unreasonable acts, and the grey fare that lies in between. I'm mostly convinced that allowing a stranger to help dress my pinky is unreasonable. If this were not a lowly tour blog but more a thematic narrative on life and a rigorous deconstruction of "human nature," I would have something big to proclaim; something like this: In weighing the decision to accept or reject generosity, the trickier offers are those that occupy the space in-between reason and unreason.
We didn't stay with Sam a second night. He offered, but circumstances and tiredness caught up with us. We shouted out the windows as we merged onto I80 East, leaving Lincoln-finally, leaving Lincoln.
In spite of its bipolarity, Lincoln and Lincolners gave us a lot of reasonable generosity; and we rode the tail winds of this generosity up I80 East and into Omaha. Call it by whatever organizing principle you prefer-karma or chaos; dumb luck or fate; purpose or chance: Adam and I have fallen into the good graces of many people on this trip. When you have lost faith in the hearts of people-or if you never had any faith to begin with (or, when the burden of the Ring of Power has become too much to bear), become a touring musician for a month and witness people share the wealth of their small corner of abundance.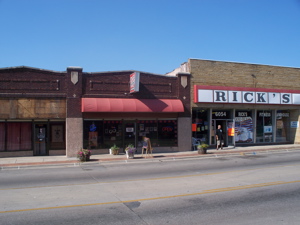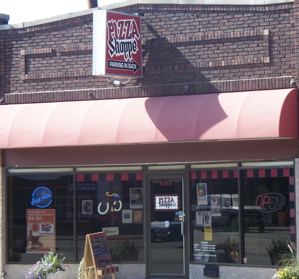 Tonight, we played an art opening at Omaha's P.S. Collective (short for Pizza Shoppe Collective). The joint sits in a cool little neighborhood that is, apparently, growing in hipness. Surrounded by coffee shops and other music venues (including Mick's Omaha where we almost played an open mc), the P.S. Collective shares a space that is half pizza shop and half gallery/music room. Pete was managing the night we played.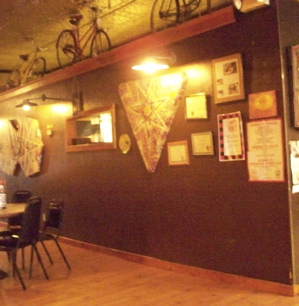 When we arrived, Stephanie Gorazckowski was hanging her works in the gallery space-a large wooden-paneled room with an Elk Lodge feel.
Dane Sybrant of the P.S. Collective greeted us and did our sound. Dane is a local singer-songwriter, currently working on his recording. Aside from some extra vocal pops from the SM-57 that we used as a vocal mic, the music sounded great.
Stephanie's family started filing in and helping her to finish hanging her work around 7. She uses mixed-media: a combination of painting and decoupage. She recently completed a new sign for the P.S. Collective that has an urban spray-paint-cum-fine-art feel.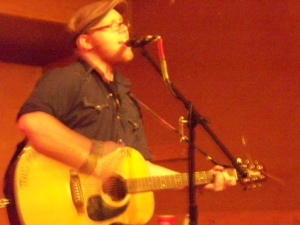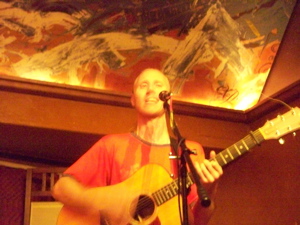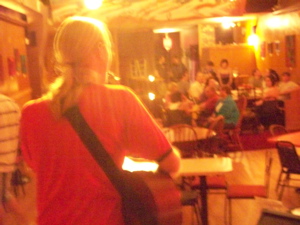 The crowd piqued somewhere between 20 and 25 people. Adam and I had a good time accompanying each other tonight. I'm singing harmonies on Losers and The Babysitter and he backed me up on The Wrinkle in the Blueprint of the Plan of Her Life, The Boy Who Bring it on Home, and The Potato Song. The latter of these three songs smoked tonight. Adam plays tambourine and echoes me on the staccato parts: "Ghost! Ghost! Ghost!"; "drums, drums drums." Krys, an old acquaintance of Adam, walked into the room at the beginning of The Potato Song and refocused the energy by grooving to the music. She was accompanied by her friend Jamie, a graphic designer.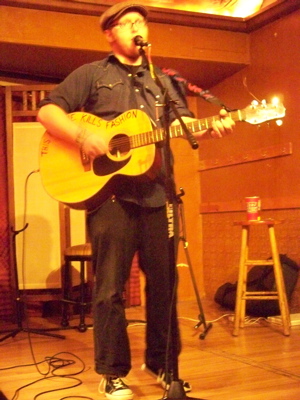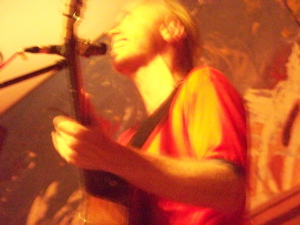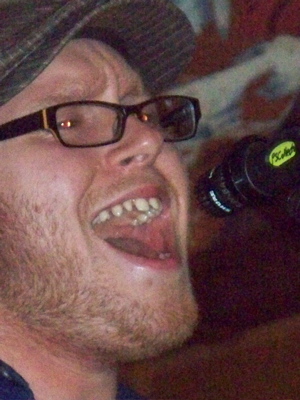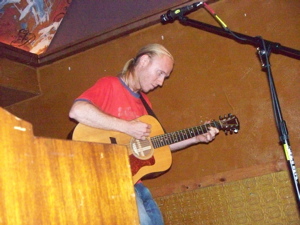 It's 1 am. We have a six hour drive ahead of us and the two gas tanks of The Boss to fill. Off to Aberdeen, South Dakota and the arms of Adam's family.
We accepted Stephanie's generosity. She gave us all the money generated at the door and we gas up at the pump.
As for the friendly man at the bathroom sink: groggy-eyed and un-caffeinated, I politely refused his generous offer to dress my pinky.
Farwell Nebraska. Merging onto the highway. Screaming out the windows one last time.
Lyrics to "Nebraska" by Brice Springsteen
"I saw her standin' on her front lawn
Just twirlin' her baton
Me and her went for a ride sir
And ten innocent people died
From the town of Lincoln Nebraska
With a sawed-off .410 on my lap
Through to the badlands of Wyoming
I killed everything in my path
I can't say that I'm sorry
For the things that we done
At least for a little while sir
Me and her we had us some fun
The jury brought in a guilty verdict
And the judge he sentenced me to death
Midnight in prison storeroom
With leather straps across my chest
Sheriff when the man pulls
That switch sir and snaps my poor neck back
You make sure my pretty baby
Is sittin' right there on my lap
They declared me unfit to live
Said into that great void my soul'd be hurled
They wanted to know why I did what I did
Well sir I guess there's just a meanness in this world"