Day 17 Stats:
Shows Played: 7
Open mics played: 2
Miles Driven: 1646
Gas $ Spent: $480.09
Nights spent in other people's homes: 4
Nights spent in hotels: 2
Nights spent at campgrounds: 1
Nights spent in hotels: 2
Nights spent in the bowels of asphalt Devil: 3
Early mornings spent in the van outside Adam's house: 1
Copies of the Nova Anatomia Sold:Â Â Â  7.5
Copies of the Nova Anatomia Used as barter for services: 8 (17 Given Away)
Copies of the Nova Anatomia used by strangers for personal cooling system: 1
Pinkies Gouged: 1
Gallons of Water Consumed: 10
Loaves of Bread Eaten: 1
Sprinkler Showers Taken: 3
Stunt Jumps Completed: 36 out of 50
Strings Broken During Performance: 14 (Adam: 9/Carson: 5)
Adam's Respect for Carson:  70%
Carson's Respect for Adam: 70%
# of shirts sold by Adam: 8? 9? 10?
# of CDs sold by Adam: 7ish
Times I've seen Adam naked: 0
Times Adam has seen me naked: 0
If the point of this tour was creative travel writing, the following blog would be told from the perspective of a foreign exchange student describing her first day on American soil-a first day that would include: an introduction to the six members of the Hooks family, a brief driving tour of the Aberdeen, SD strip malls (including the nation's first Super 8 Motel), decorating her new room in the Hooks' house, pizza, a struggle to get her sister on the phone, and attending an Adam Hooks/Carson Metzger performance at The Red Rooster.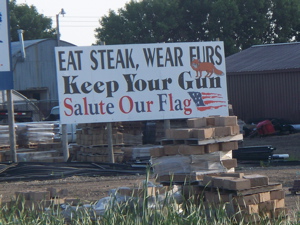 I'm going to go out on a limb and suggest that most foreginers likely don't think of Aberdeen, SD when they think of America. Aberdeen: famous for almost being a bustling railroad town until the swampy ecosystem underlying the  built environment curbed the enthusiasm of the railroad boosters. I later learned from Altman (Hairsucker) that Aberdeen was also home to a bustling rainmaking industry at the end of the 19th century; well maybe not bustling. But the folks of Aberdeen paid a pretty penny to bring in a merchant and his rainmaking machine to end a drought. He did so on command.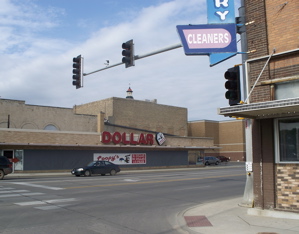 As the sun rose over South Dakota, we drove past wreckage from a July 31st storm, landing home in Aberdeen around 7:30 in the morning.
I had two headaches yesterday: one upon waking and one shortly before driving home. My propensity toward migraines was a major fear of mine prior to this tour. I have long doubted my ability stay migraine-free and capable of functioning through multiple shows in a week. Thankfully, I kicked both these headaches.
I'm happy to be here in a familiar place with Adam's family. I played Adam's CD release show here in Aberdeen a year ago. Adam joked about his family scaring Ida, the exchange student; he forgot to joke about them scaring me.
Adam's family is weird. But I find them weird, not for their sense of humor, but because they actually hang out together. His family spends time talking, joking, playing music. I also come from a family that spends time together; but not like the Hooks. I was so impressed by the ease and volume of their socialization. I enjoyed talking with Adam's parents Dan and Polly, his sister Marian, and his brothers Marcus and Isaac.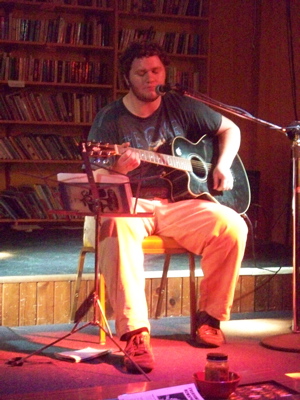 Marcus Hooks performing at The Red Rooster.
The show at Aberdeen's Red Rooster coffee shop went well. Marcus Hooks opened up and played a mix of covers (The Pixies) and originals including "Edith."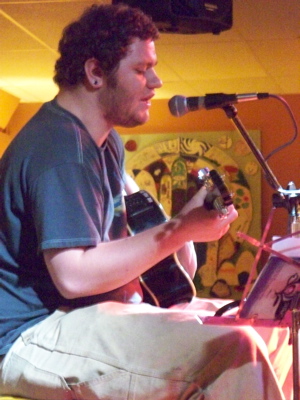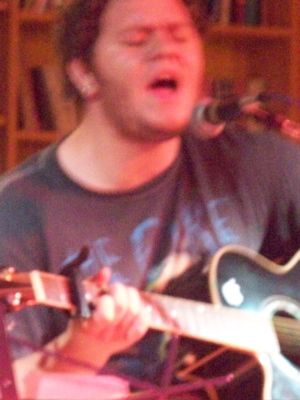 While we've been consistently playing for 15 people or so (sometimes as few as ten; other times, as many as 25 or 30), the Rooster crowd pushed well into the 30s if you include the in-and-out activity of the smokers. Having spent a number of his formative years in Aberdeen, Adam knows a lot of people here. With family and friends in the audience (including Steph's parents Marc and Jo Nelson), we hammed it up a bit. Silly on-stage banter has been one of the most rewarding outcomes of touring with Adam.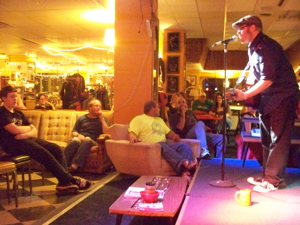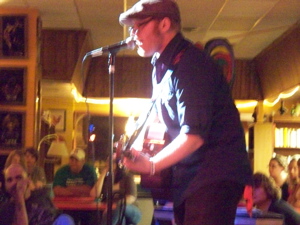 Beyond the banter and Adam's playful energy, I will remember this performance for two other reasons: Adam threw himself into his soldier performance on The Boys Who Bring it On Home. He had me laughing in the middle of the song with his theatrical miming of a circumcision. And he broke three strings. Two on his guitar. One on mine. He now has a comfortable lead in the broken string stats.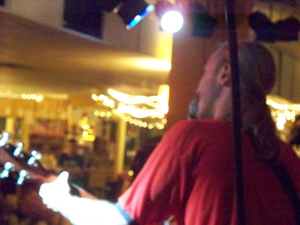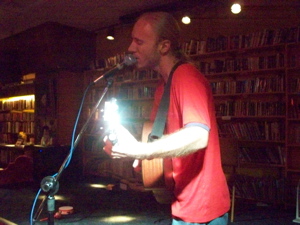 Thanks to the Hooks and all those who came out to see us; and thanks to the Nelsons for feeding us, chatting, and letting us clean our clothes. Thanks to Dan for having us at the Rooster. And to Altman for taking us out to breakfast. Thanks to Jeremy for doing sound. Mandy, Jessica, Amber, Alyssa, Peter, Ryan, Trevor, Sierra, Asher, Cheryl, Brian, Marian, Marcus, Isaac, Ida, Dan, and Polly, thanks for listening.
I look forward to returning to Aberdeen. And Albuquerque.
Cheers,
Carson