Lately, She's a Sea Monkey
Day 22 Stats:
Shows Played: 11
Open mics played: 2
Miles Driven: 2032
Gas $ Spent: $570.11
Nights spent in other people's homes: 7
Nights spent in hotels: 2
Nights spent at campgrounds: 1
Nights spent in hotels: 2
Nights spent in the bowels of asphalt Devil: 3
Early mornings spent in the van outside a house: 2
Copies of the Nova Anatomia Sold:Â Â Â  9.5
Copies of the Nova Anatomia Used as barter for services: 11 (18 Given Away)
Copies of the Nova Anatomia used by strangers for personal cooling system: 1
Pinkies Healed: 1
Gallons of Water Consumed: 13
Loaves of Bread Eaten: 2
Sprinkler Showers Taken: 3
Stunt Jumps Completed: 16 out of 50
Strings Broken During Performance: 17 (Adam: 10/Carson: 7)
Adam's Respect for Carson:  CORRUPTED
Carson's Respect for Adam: CORRUPTED
# of shirts sold by Adam: 10? 11? 12?
# of CDs sold by Adam: 7ish
Times I've seen Adam naked: 0
Times Adam has seen me naked: 0
Times Adam has engineered a situation to catch me in the nude: 1 (ask him for details)
Those of you who follow The Great Midwestern Lacuna Tour Blog Stats might have noticed that, in the last installment, the respect of your large-hearted duo jumped overnight from a dwindling 70% to a pristine 100%. I assure you, this is not the reality on the ground. In fact, if anything, Carson's respect for Adam and Adam's respect for Carson was, at the time of the last post, precariously balanced upon a fragile precipice.
This author does not know who or what managed to tamper with The Great Midwestern Lacuna Tour Stats. Nor do I know how they managed such a feat given my numerous codes and encryptions. But the truth of the matter is this: respect was 70%. That WAS a fact.
Now that the Tour Stats have been violated, Adam and I are arguing about a matter that was not included in the original experimental design. Were I to try to calculate respect now, I'd have to account for the variation induced by this extra-experimental tampering. To all my good friends, family members, partial lovers, fans, and cyber-trolls, the respect category of The Great Midwestern Lacuna Tour Stats has been irrevocably "CORRUPTED."
With that technical matter out of the way, let's move on to today's definitions:
HIPSTER and PARTICULARLY DISCERNING HIPSTER
HIPSTER: A he, she, both, or it, that cannot use first-hand experience to distinguish quality entertainment from crap entertainment. A HIPSTER takes joy in ignoring and scoffing at that which he, she, both, or it has not listened to. These peculiar humans congregate in urban environments in search of a PARTICULARLY DISCERNING HIPSTER (they often substitute a third party critic such as Pitchfork media) to tell them what bands/performers they should stop ignoring. Only then are they capable of taking time out from their scoffing posturing to witness quality entertainment and rave about it to their friends.
PARTICULARLY DISCERNING HIPSTER: This breed of scenester appears, at first, to be capable of identifying talent in the way that a teacher sees potential in a student. Don't be fooled by this gesture. Yes, the PARTICULARLY DISCERNING HIPSTER does take a chance by advocating for bands/performers that have yet to be discovered. But these socialites are not interested in quality entertainment for the sake of the entertainment; in fact, they often advocate bands/performers that they, themselves, have never actually heard or seen. Rather, the PARTICULARLY DISCERNING HIPSTER gossips about talent in an effort to solidify their social status in their hip little kingdom by discovering artists before their friends do. These gatekeepers of hipness are the early adopters of the indie entertainment world and they pride themselves in shaping the tastes of their HIPSTER brethren.
Playing big cities is difficult-people have lots of things to do. Adam Hooks and Carson Metzger generally failed to register on the hipness-radar of the Twin Cities. We know no one here and we left our little black book of PARTICULARLY DISCERNING HIPSTERS beneath the pull-out couch in Adam's Madison living room.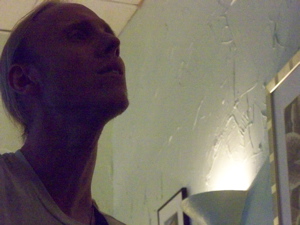 The curiously repeating trend this tour has been the disconnect between us and the local HIPSTER that hang and smoke outside the coffee shops. As we play quality tunes and play our hearts out, we are certain these people (largely youth) are incapable of listening to anything that a PARTICULARLY DISCERNING HIPSTER has not yet deemed cool.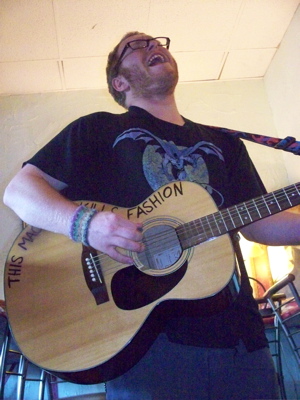 So we play to the people that are present. And the point is to play as hard for a single person as I would for 40 people.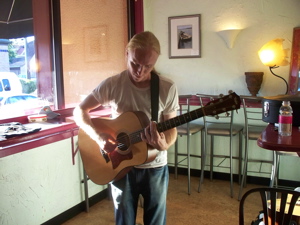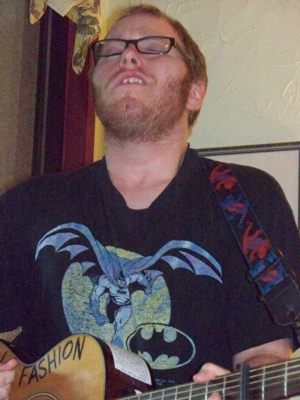 Tonight, we performed most of our show at Amore coffee for three folks and the two baristas. One of the listeners kindly bought an album from me after I sewed my gut into Wrinkle in the Blueprint, The Boys Who Bring it Home, This Apocalypse, and My Sweet Irene. And we met Alex-an engineering student pursuing green design. Thanks to those who listened.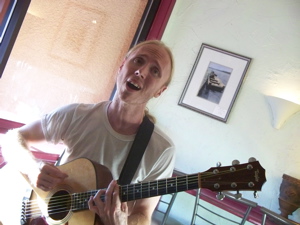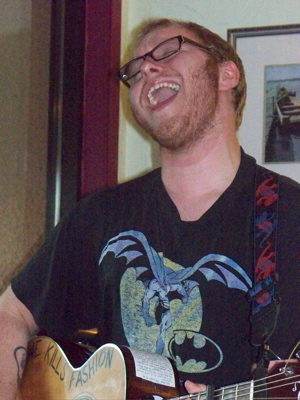 I enjoyed myself, once again playing the hell out of the joint even as I fell deaf on the ears of the deaf.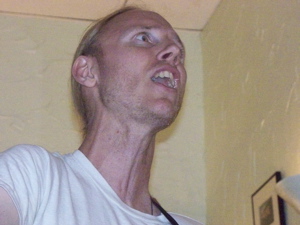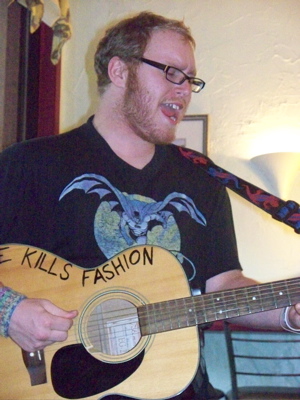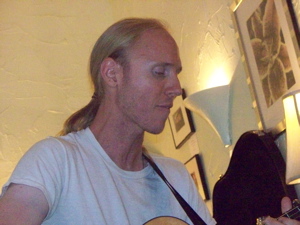 Home draws near the beautiful green of the Twin Cities.
Over n' out for now.
Carson